Chinese miners have not downed their tools as previously thought but have instead gone underground, new research has revealed.
China is now only second to the US in hash rate, with the research revealing that most miners have had to go conceal their operations and even use VPNs to avoid capture.
---
China notoriously cracked down on cryptocurrency miners in 2021, wiping out what were previously the largest mining operations in the world. By mid-last year, the hash rate emanating from the country was close to zero. However, new research has revealed that the miners have bounced back, and while they still have to hide their operations, they are now only second to the US in hash rate generation.
China blamed the intense power consumption by the Bitcoin miners as the reason they had to go. The crackdown was intense, with some states even setting up dedicated hotlines for the public to report suspected miners while the national government threatened social and credit blacklisting for the culprits.
By August last year, mining activity in China had fallen almost to zero. But new research shows this has changed.
Related: Crypto mining in China goes on – though illegally now
Titled "Bitcoin mining – an (un)surprising resurgence?" the report looked at mining over the past nine months and the trends that have dominated the industry in that time.
The most surprising revelation was that China is back among the biggest miners. It stated:
Following the government ban in June 2021, reported hashrate for the entire country effectively plummeted to zero during the months of July and August. Yet reported hashrate suddenly surged back to 30.47 EH/s in September 2021, instantly catapulting China to second place globally in terms of installed mining capacity (22.29% of total market).
The report, compiled by the University of Cambridge concluded that Chinese miners had gone underground since the activity is still banned in the country.
"Access to off-grid electricity and geographically scattered, small-scale operations are among the major means used by underground miners to hide their operations from authorities and circumvent the ban," the researchers opined.
It is possible that China could be contributing more hash rate than the report suggests. This is because the researchers relied on mining pools for their data. As such, miners can be using VPNs to conceal their activities since mining is illegal in China.
Away from China, the researchers found that the US is still the global leader and that in those nine months, it had extended its lead to 37.84 percent, up from 35.40 percent. Georgia, Texas and Kentucky are the biggest mining states, accounting for more than half the total hash rate of the entire country.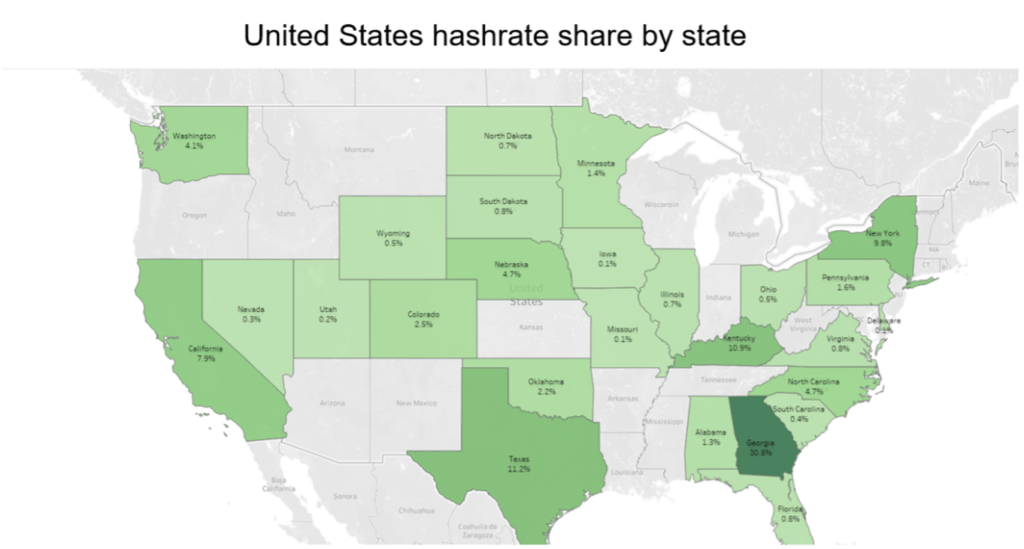 Credit: Source link